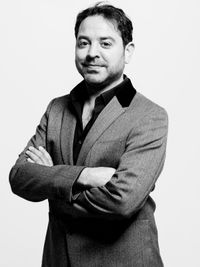 Paul Sartin MA, MMus, LRSM (b. 1971, d.2022) 
  
As a singer, oboist, violinist, composer and arranger Paul performed and recorded extensively with BBC Radio 2 Folk Awards winners and nominees Bellowhead,  Belshazzar's Feast and Faustus.  
  
Editor of the Bellowhead Songbook, and Hampshire Dance Tunes, Paul's  composition commissions include numerous works for theatre; The Seven Joys of Mary for the Choir of Somerville College, Oxford; and The Hartlepool Monkey for Streetwise Opera, nominated for a BASCA award.  
  
From 2001 Paul directed the Andover Museum Loft Singers, a non-auditioning community choir specialising in traditional music of the south and south-west of England. The Singers frequently perform at local events and festivals, have appeared on a number of recordings, and featured on BBC Radio broadcasts.  
  
Having gained an Honours Degree and Choral Scholarship at Oxford, Paul was awarded a First for his Masters in Traditional Music, and in 2007 received a 75th Anniversary Award from the English Folk Dance and Song Society. 

Paul's  book, 'The Community Choir Collection: Folk, 50 Traditional Songs from the British Isles' is published by Faber Music.
In September 2022, weeks before the start of the Bellowhead reunion tour, the band were devastated by the sudden loss of Paul. The English folk scene was left immeasurably poorer by his untimely death and his many, many friends are still struggling to come to terms with his absence.
Paul's enormous contribution to the English folk scene was celebrated in an obituary in the Guardian www.theguardian.com/music/2022/oct/02/paul-sartin-obituary